This Shark Rocket Complete with Duo Clean review will break down the new improvements on this brand new vacuum available at www.getrocketcomplete.com.  Shark vacuums are a popular brand of vacuums and customers are very satisfied with how these products clean their homes and the upgrades that make it easier to clean their carpets, hard surface floors, drapes, automobiles, stairs, etc.  The brand new Shark Rocket Complete has a few more features that customers will enjoy as well.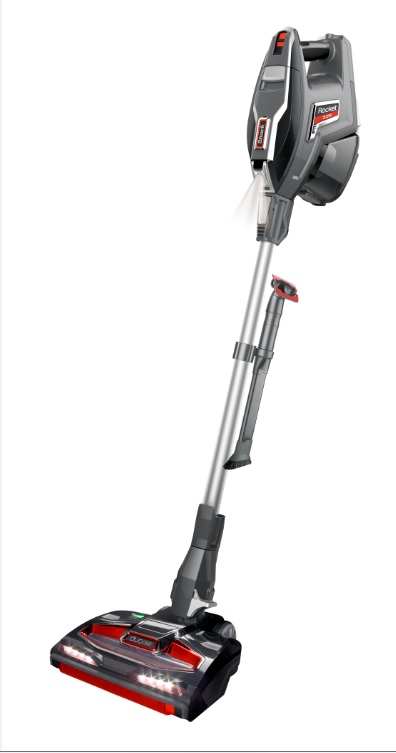 Visitors that don't have time to read this review can visit the Shark Rocket Amazon page and read customer reviews.  For the Shark Rocket Upright Vacuum there are over 2,100 customer reviews and customers have given the product a rating of 4.5 out of 5 stars.  Click for Shark Rocket best pricing.
Shark Rocket Duo Clean
Shark vacuums are most known for their "no loss of suction technology" but with the Shark Rocket Duo Clean this technology has been combined with a new upgrade called Triple Particle Cleaning.  Triple Particle Cleaning is their new cleaning system that utilizes 2 brush rolls spinning in unison to remove small particles, large particles, and stuck-on dirt from carpets and bare floors.
One of the brush rolls is a soft velvet brushroll that is designed to remove stuck-on dirt from hard surface floors while at the same time sucking up large debris.  On carpets the soft brush roll effectively picks up and pulls in surface dirt and debris.  The second brush roll is a bristle brushroll that specifically accelerates debris into the high-velocity suction channel on hard surface floors and engages carpet fibers to remove embedded dirt.
The idea behind Triple Particle Cleaning is for 1 vacuum to have the capabilities of picking up any type or size of dirt.  With this technology implemented users won't have to depend on a dustmop or broom anymore because their Shark Rocket Complete has the capability to clean up those typical messes.
3 Types of Particles
If you've seen the Shark Rocket Complete As Seen On TV commercial then you've seen the video clips of the type of small, large, or stuck-on particles the vacuum is capable of picking up.  An idea of small particles is the vacuum picking up a small pile of conflakes, large particles is a line of jelly beans, and stuck-on particles is dirt/grim stuck to a hard surface floor.
Another huge perk with the Shark Rocket HV380W is it has a very helpful cleaning feature that allows you to get your edges, corners, or base board clean.  We all know how difficult it is for a vacuum cleaner to clean up dirt next to the wall.  This vacuum creates enough suction to clean the dirt along your walls which is a huge benefit.
Shark Rocket Complete HV380W Features
No loss of suction technology
Convenient onboard accessory storage
Duoclean technology
Includes brushroll designed for delicate bare floors
Converts to a removable hand vac
Illuminating LED lights
Better under-furniture reach
Lighter weight about 10 pounds
Converts in to a hand vacuum
Advanced swivel steering
Shark Rocket Complete As Seen On TV
Customers interested in purchasing the Shark Duo Complete can purchase the product online at www.getrocketcomplete.com.  The TV offer is rather affordable for all that you get.  Customers can make a 1 time payment of $199.80 or make 4 monthly payments of $49.95 per month.  Each offer includes free shipping and handling. There is also a 60 day no questions asked returns money back guarantee on the vacuum.
What it comes with:  vacuum, dusting brush, 12" crevice tool, pet upholstery tool, on-board tool clip, wall mount, 30 foot cord, free 5 year VIP warranty, bonus gift of under appliance wand.