This Omnicharge Portable Power Bank with AC/DC Port review will convince you how much better your mobile life will get with this compact external battery.
The Omnicharge Smart Power Bank is considered "the world's first smart power bank" that is ready to transform your tech life and take it to a new dimension.  This particular power bank is not only an external battery to charge your mobile devices but also has an AC/DC port to plug in nearly any device around you.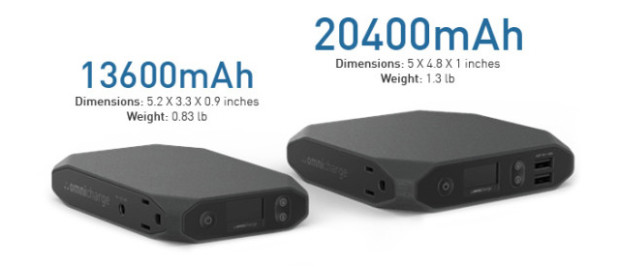 When you're out and about there's no need to look for a wall socket for power but instead the Omnicharge is more than capable of supplying you the power you need.  The Omnicharge is available for pre-order on Indiegogo.com and will begin shipping out in October.
On Amazon.com the nearest competitor of the Omnicharge is the Anker 20000mah PowerCore 20100 which has nearly 6,000 customer reviews and a rating of 4.7 out of 5 stars.  Click for Anker Powercore best pricing online.
Omnicharge External Battery with AC Port Features
What it Powers/Charges:  laptops up to 13 hours, DSLR's up to 4-6 charges, Projectors up to 3-5 hours, TV up to 3 hours, smartphones up to 9 charges, tablets up to 8 charges, portable speakers up to 3 charges, action cameras up to 8 charges, curling irons, power tools, etc.  The Omnicharge will power a wide range of devices.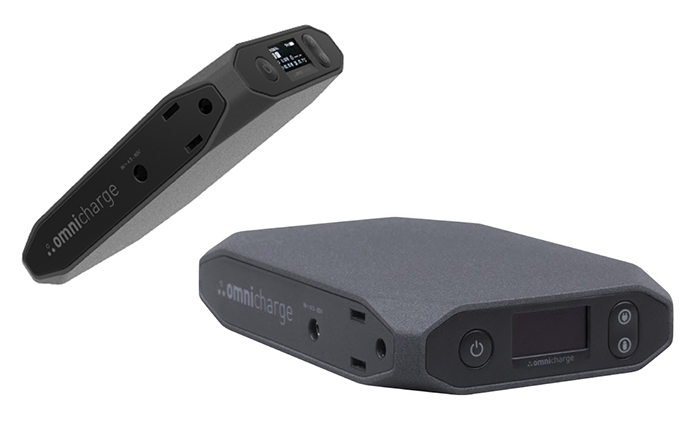 AC/DC Power Outlet: The Omnicharge Standard 120AC/150DC (A and B Socket Type) will push 13,600 mAh at 65W output power or the Omnicharge Pro 20,400 mAh at 100W output power.
Universal Charging:  Only power bank on the market with universal charging – charged with any cable already around you
Adapative Charging:  With Omnicharge your device will be charged in the shortest possible time.  Adjusts the input and output voltage to charge and discharge at the fastest time.
Smart Power Management System:  adapts to optimal voltage levels for each device.  Manages the outflow and inflow to ensure both your device and omnicharge are operating safely while displaying data.  Data is displayed in real time.  Recognizes what type of device you're charging and automatically adjusts the optimal output.
Simultaneous Charging:  charge multiple devices at once – up to 3 devices at once (2 USB, 1 AC/DC socket)
Flow-Through Charging:  Can charge other devices while the Omnicharge is being charged.  The first simultaneous charging power bank.
Types of Omnicharge for sale:
Omnicharge Standard (1x):  $109 – 13600mAh (max output 65W) Ideal for charging smaller devices like smartphones & cameras.
Omnicharge Pro (1x):  $139 – 20400mAh (max output 100W) Ideal for charging larger devices like high power laptops.
120AC/150DC Power Outlet: Provides 13,600 mAh at 65W output power (60Hz) or 20,400 mAh at 100W output power (60Hz)
Rapid Charging USB Ports (5V/4.8A): Two USB ports are found along the side of the device.
Wireless Charging:  Only on the Omnicharge Pro but will allow your device to charge via resonant inductive coupling.  Just place your device on top of the power transmission pad.
What's in the box:  Omnicharge, Omnicharge Fast AC Charger, Universal Connector, USB to 5V %.5mm DC Cable Connector, Owner's manual.